Tyrone clergyman dies in diving incident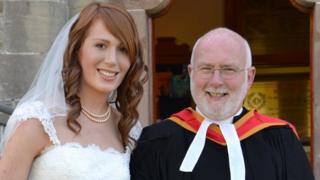 A Presbyterian clergyman from Donemana, County Tyrone, has died after getting into difficulties while diving off the County Donegal coast.
The Rev Stewart Jones, who was in his 50s, died after being airlifted to Sligo Hospital on Saturday.
The victim had been diving near St John's Point with another man from Londonderry who was also airlifted to hospital during the rescue operation.
The second man was unhurt. Dr Jones was married and had three children.
Dr Jones, who was the Presbyterian chaplain at Altnagelvin Hospital, was a qualified diving instructor and also an instructor in emergency first response.
He was a published author and his works included Israel in the Carter Years and British Policy in the Middle East.
'Prayerful support'
Ian Scott from Malin Head Coastguard said cardiopulmonary resuscitation (CPR) had been carried out on Dr Jones.
"Sadly, despite administering CPR, from when the diver was recovered until his arrival at hospital, the man died."
The Presbyterian moderator, Rev Dr Michael Barry, said he was "saddened and shocked" to hear of the clergyman's death.
He said: "Stewart served his congregations with great enthusiasm and complete dedication.
"On behalf of the Presbyterian Church in Ireland, I extend our deepest sympathies to his wife, Patricia, his three daughters, son-in-laws and grandchildren.
"I assure Patricia, the family circle and indeed the congregation of Donemana, of the prayerful support of many throughout the Presbyterian Church in the days that lie ahead."