Letter bomb found at Newtownabbey mail sorting office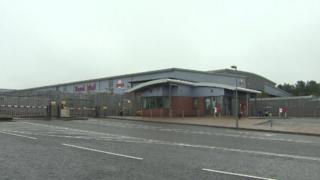 A suspicious package found at a sorting office in Newtownabbey, County Antrim, was a viable letter bomb, police have said.
Part of the depot on the Mallusk Road had to be evacuated on Friday night as Army bomb disposal officers dealt with the device.
The security alert ended in the early hours of Saturday.
The attack was described as "reckless" by Northern Ireland Secretary of State Theresa Villiers.
In a message posed on the Northern Ireland Office (NIO) twitter account, she said: "Once again these reckless and cowardly individuals have demonstrated complete disregard for postal workers and local community.
"I condemn this action. Anyone with any information should pass it to the Police Service of Northern Ireland."
Newtownabbey councillor Noreen McClelland said those responsible had put "countless lives in danger".
The Social Democratic and Labour Party (SDLP) member said: "This was a cruel, callous act that could have left people injured or dead.
"Those behind it have no regard for the lives of anyone caught up in their attempts to maim and kill others."
The object has been taken away for further examination.