PSNI contracts: Pensioner is seventh man arrested in police vehicles investigation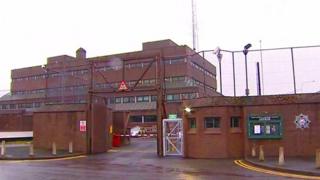 A pensioner has become the seventh person to be arrested as part of an investigation into the awarding of a number of PSNI vehicle contracts.
The 71-year-old man was detained in County Down on suspicion of bribery and procuring misconduct in public office.
Six men, including a police officer, were arrested in Northern Ireland and England on Tuesday as part of the same PSNI investigation.
The six, who range in age from 34 to 62, remain in police custody.
A number of searches at homes and business premises were also carried out on Tuesday and several items were seized.
It is understood those items included computers that detectives will now examine for any evidence of criminal behaviour.
The police officer, who is 48, was arrested in Northern Ireland on Tuesday, along with a 37-year-old member of police staff, a 54-year-old former police officer and a 62-year-old man.
The two men arrested in England are aged 34 and 54. They were both brought to Northern Ireland for questioning.
The pensioner is being questioned at Antrim police station.