Belfast Cathedral Quarter bomb: Man, 41, released pending report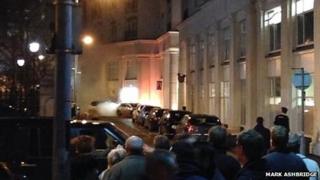 A 41-year-old man arrested over the Christmas bomb attack in Belfast's Cathedral Quarter has been released pending a report to the Public Prosecution Service.
The bomb was left in a holdall in Exchange Street West where it exploded shortly before 19:00 BST on Friday 13 December when the area was busy.
The bomb exploded as the area was being cleared. No-one was injured.
The man was arrested in north Belfast on Tuesday.
About 1,000 people were affected by the explosion as the Cathedral Quarter was full of people enjoying Christmas parties.
A warning about the bomb had been given. However police said it was left at a different location to that named in a telephone call to a newspaper.