PSNI warning on courier card scam in Northern Ireland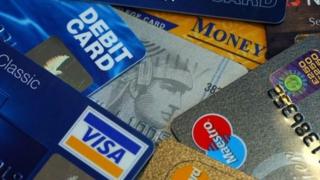 Police in Northern Ireland are warning about "courier fraud", involving people being persuaded to hand over bank cards to criminals.
They say they have received a number of reports recently.
The scammers telephone the victim purporting to be someone from their bank, the police or other such agency.
They then dupe the person into revealing their PIN and handing over their credit or debit card to a courier or taxi driver.
That person may not know they are being used as part of the scam.
'Hang up'
The target of the bank card fraud may be asked to ring the number on the back of their card to convince them the call is genuine, but the scammer keeps the line open so that the victim unknowingly talks to another member of the gang, posing as a bank employee.
Police have said those most at risk are older people and vulnerable individuals, but everyone is potentially a victim.
Detective Constable Stephen Crooks said: "The police or bank will never ask you for your PIN or credit card. They will never ask you to withdraw amounts of cash from your bank or bureau de change.
"If you are contacted by someone who asks for these, hang up. Then use a different line to report the call to police on 101 or allow at least five minutes for the line to automatically clear.
"A common scam is when suspects typically purport to be a police officer and request that you assist in an investigation into corrupt bank staff or counterfeit money being passed.
"They may also tell you that you may be entitled to a reward. Law enforcement agencies would never ask you to do this or offer a reward under these circumstances."