Report finds 'no grounds' for public to own Lough Neagh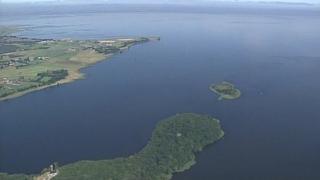 A report has found "no compelling grounds" for Stormont purchasing Lough Neagh from the Earl of Shaftesbury.
A working group had been exploring the option.
The lough is the biggest fresh water lake in the British Isles and supplies 50% of drinking water in Northern Ireland.
The Shaftesbury estate thought a previous valuation of £6m "possibly reflects a fair and not exorbitant sum".
It owns the majority of the bed and its soil.
In 2012, Sinn Féin secured a working group to look into public ownership.
While not on the market, the report said the earl felt if his ownership "was a barrier to development potential of the lough he would consider a sale".
The report added: "The working group has been unable to identify any tangible benefits to the effective management of the lough should it be brought into public ownership."
But it called for a more inclusive public management structure.