GI bride from Tyrone tells her love story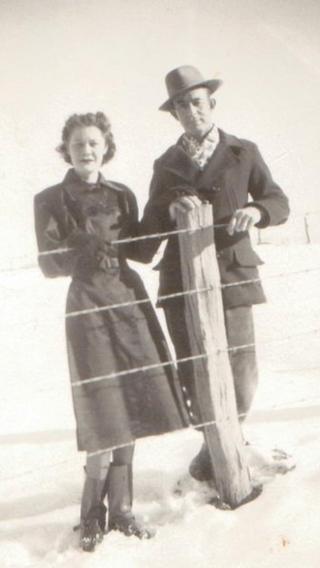 Tyrone woman Doris Wray had never even been to Belfast.
But as the world recovered from the greatest conflict known to man she decided to move halfway across the world to make a life with a handsome American GI she had only known for a matter of months.
Doris made that huge decision in 1945.
When she married Russell Bodenhamer the next year in Springfield, Missouri, she became one of thousands of GI brides.
Now, aged 94, Doris still lives in the house she and Russell built when they got married.
Her husband died in 1971, but her daughter, grand-daughter and great grand-daughter all live nearby.
She is also now an American citizen.
Speaking on the anniversary of D-Day, Doris remembered the chance meeting that meant she would move from Killyman, just outside Dungannon, to start a new life in the Midwest of the United States.
"Russell was stationed at a camp near Killyman. He came up the road one day for a walk and he met my mother," she said.
"My mother was a great talker and she asked him in and gave him a cup of tea and that's how I met my husband.
"I was in the house with my daddy.
"I walked out to the gate with him to bid him goodbye and he said 'can I come back to see you again?'
"I said 'you can come back anytime, we'll make you welcome'.
"Some people liked them (the GIs) and some people didn't, but the one I got, I loved him."
Massive gamble
But then World War Two broke out and tore them apart.
It was a very long time before Doris and Russell were together again, but an unbreakable bond had been forged.
"Then he left and went to Africa for more than two years," she said.
"When he came back and got out of the Army he called me one day and said 'are you ready to come over?'
"He sent money for my ticket."
A huge decision and a massive gamble. But did it pay off?
"I always had a good life over here," she said.
"I had a wonderful mother-in-law.
"She took me under her wing.
"She was so good to me when I came over to this country."
As part of the events to commemorate the 70th anniversary of the D-Day landings, BBC Radio Ulster's Talkback will be coming live on Friday from 12:00 BST to 13:30 BST from Crom Castle, County Fermanagh, which was a temporary home to thousands of American GIs in during World War Two.
An interview by Donna Traynor with a NI veteran who played a key role in D-Day will be broadcast on BBC Newsline at 18:30 BST on Friday.