NI health workers protest over missed payments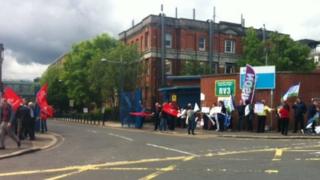 Healthcare workers have staged protests at hospitals across Northern Ireland over missed payments.
Some staff were underpaid or received no money for overtime and unsocial hours they had worked, following the introduction of a new payroll system.
The Department of Health said on Wednesday that the problem had been largely resolved.
However, Conor McCarthy of Unison said workers were "holding their breath every time it's payday".
'Dribs and drabs'
"I'm largely sympathetic with the Belfast Trust who have been working hard to get staff paid, but it's like trying to plug a huge hole in a bucket of water that's flooding out," he said.
"Every month you think you've got it repaired and then it happens again.
"The bottom line is that there are no guarantees that the pay will be right - the system is just not fit for purpose."
Around 7,000 staff members had extra national insurance contributions taken out of their salaries, and around 5,000 staff had been affected by the error over tax codes.
Speaking at a protest outside the Royal Victoria Hospital on Thursday, he said colleagues had found it difficult to get through to emergency phonelines set up to deal with complaints.
"Most people have now got retrospective payments, but it's coming in dribs and drabs," he said.
"We're still finding members who are not being paid."
'Additional resources'
A Department of Health spokesman said: "The issues around tax codes and national insurance contributions have been effectively resolved.
"Significant additional resources have been directed towards resolving issues at local level around enhancements to basic pay to prevent the problems recurring.
"The number of staff affected this month has decreased markedly and any shortfalls are being addressed urgently.
"All staff are encouraged to submit claims for enhancements on time to facilitate correct payment.
"The minister has made it clear he expects this issue to be resolved, however he recognises there will always be the potential for pay to be incorrect due to late or inaccurate submission of claims."