Racism row councillor Dineen Walker does not attend mayor election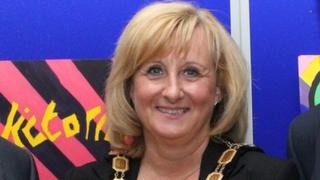 A councillor who branded MLA Anna Lo a "racist" has not attended a meeting of Newtownabbey Council, where she had been expected to be elected mayor.
Alderman Dineen Walker, who is member of the DUP, was tipped to get the top job at Monday night's council meeting.
But a row broke out last week after Ms Walker posted a social media message calling Anna Lo of the Alliance Party a "racist".
Ms Walker has already apologised for the remark and deleted it.
However, the Alliance grouping on the council said they would find it difficult to support her candidature in the wake of the row.
When the meeting began on Monday evening, the DUP nominated councillor Thomas Hogg instead and he was duly elected as mayor.
Alderman Pat McCudden of Alliance was elected as vice-chairman of Newtownabbey Council.
It is understood other party groupings were also prepared to vote against Ms Walker.
It is also understood the DUP centrally and locally decided that Ms Walker's name would not be proposed following the controversy.
Last week, Hong Kong-born Ms Lo said continual racist abuse had influenced her decision not to seek re-election to the next Northern Ireland Assembly.
But at the weekend, the Alliance MLA addressed an anti-racism rally in Belfast.
Ms Lo told the rally she was "not going away" and said everyone must stand up against racism and sectarianism in Northern Ireland.