Psychic Patrick Doak and his sister found guilty of fraud charges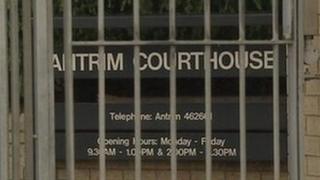 One of NI's best known psychics, Patrick Doak, has been given a one-month jail sentence, suspended for two years, for his involvement in a fraud at a residential home.
He faced a total of five charges dating back eight years when he was manager at the Owenvale home on the Springfield Road, Belfast.
The 50-year-old denied the charges.
His sister, Bridgene Kelly, who was a carer at the home, was found guilty of two charges and fined £400.
Both left Antrim Crown Court on Friday still protesting their innocence of involvement in the fraud at the St John of God-run home for vulnerable adults.
Doak claimed he was the victim of a "witch-hunt", while his 55-year-old sister, with an address at Linden Gardens, north Belfast, talked of her continued "shock and sadness" of being convicted of crimes of which she proclaimed: "I am totally innocent of".
The false accounting charges involved less than £100.
Judge Gordon Kerr QC told the siblings they had both been convicted by a jury following a trial, although they still did not accept their guilt.
The judge told Doak he had been a manager of a centre designed and run for the benefit of vulnerable adults who stood to face a potential loss.
Judge Kerr said in his view such managers had a high duty of care where monies are entrusted to them on behalf of residents, and in this instance, Doak had fallen short in that duty, which to him was the most aggravating feature of the case.
Position of trust
However, given the low amount of monies involved and credit for his clear record, he would suspend his short jail term.
Turning to Doak's sister, the judge said that while in a position of some trust, she had been working under the control of a manager and that there was no suggestion she had benefited personally.
Judge Kerr added that, in her case, the custody threshold had not been crossed and instead imposed the fine, which she was given three months to pay.
A prosecution lawyer told the court the monies amounted to £94.50 and involved five charges of false account on Doak's part and one each of false accounting and forgery on his sister's.
However, the lawyer added it was not the case that either had personally profited from their wrong-doing, which they still denied.
A defence lawyer for Doak, described his offending as a "technical" in which there was no loss to any of the residents, although they did face a potential loss.
He added while there were multiple offences, they all related to the one day, with no suggestion he gained anything from them.
A defence lawyer for Mrs Kelly said she had a clear record and had gained nothing from the one-off offending she was convicted of, but still denies.
Doak, who still does not accept any responsibility for what occurred, claimed that there were already "errors in the money management system" of the care home.
In addition he said that any transactions he recorded had to be counter-signed by another member of staff.
Doak, from Lagmore Meadows in Dunmurry, runs the Centre of Angels complex on the Falls Road.
In conclusion, he said that while those who "targeted" him had "taken away my job... taken away my career. They are now trying to take away my reputation for the work I now do as a spiritualist".