Augustin Edaghese thanks Belfast jury after acquittal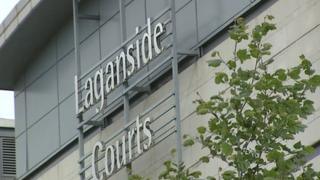 A man cleared on Friday of sexual assault, sobbed uncontrollably, got down on his knees and thanked a jury for giving him his life back.
Augustin Edaghese, 31, from Monagh Crescent, west Belfast, had faced charges of administering a substance with sexual intent, and sexual assault.
A woman alleged that she was drugged and sexually assaulted by the man she knew as Jason Banks.
Mr Edaghese had always protested his innocence.
The woman claimed that after meeting Mr Edaghese in a Belfast nightclub following contact on Facebook, he promised her a modelling contract.
During a trial held this week at Belfast Crown Court, the 23-year old said that after meeting in the nightclub, she and Mr Edaghese then met in a city centre hotel on 21 November, 2011.
She told the jury that he brought her to a house in the university area of the city, where she believed he drugged her drink.
When she reported the incident to police, a urine sample was taken and subsequently analysed for drugs, including the "date rape" drug GHB, none of which were found.
Mr Edaghese maintained that after both he and the complainant drank several shots of brandy, he smoked a cannabis joint then fell asleep. When he woke up, the young woman was gone.
He was arrested in October 2012 and subsequently charged.
'Justice for a black man'
However, during the second day of the trial, a judge ordered the jury to find Mr Edaghese not guilty of the administering a substance charge.
After deliberating on the second count, the jury returned a majority not guilty verdict on the sexual assault charges.
He said the not guilty verdict was "justice for a black man" and told the jury, "thank you, thank you, thank you".
He added: "You have given me my life back. I thought I had lost my life."