Dublin-Monaghan bombs: Wreaths laid on 40th anniversary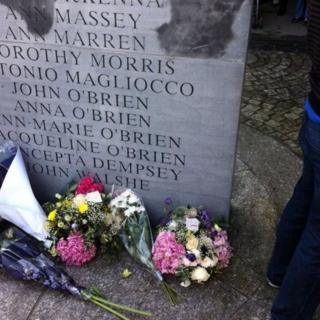 Wreaths have been laid at the site of one of three bombs that exploded 40 years ago in the single worst day of atrocities in the Troubles.
Relatives of the dead and survivors of the 1974 Dublin and Monaghan bombings gathered at a special memorial on Talbot Street in Dublin on Saturday.
Thirty-three people, including a pregnant woman, were killed and almost 300 people were injured when the bombs exploded without warning.
The Ulster Volunteer Force was blamed.
Irish prime minister (taoiseach) Enda Kenny laid a wreath at the ceremony along with the members of the Justice for the Forgotten group.
In a statement, Northern Ireland Secretary Theresa Villiers said she would continue to hold talks with the Irish government over the bombings.
"The passage of time does not lessen the pain and loss for those who lost loved ones to terrorism during the Troubles," she said.
Ms Villiers said the previous British government had co-operated fully with past inquiries and had gone to great lengths to provide what information it could.
She said: "Since May 2010 both my predecessor and I have discussed this issue several times with counterparts in the Irish Government and I continue to do so."
Author and historian Tim Pat Coogan delivered an oration before a memorial Mass was celebrated at the Pro-Cathedral in Marlborough Street by Archbishop of Dublin Diarmuid Martin.
In his sermon, the archbishop said great strides towards reconciliation had been made in the four decades since the bombings.
"But we also know that reconciliation will only be lasting when it is based on truth," he said.
"In a modern human rights culture, which fights against impunity and seeks reconciliation in truth, it is anachronistic that there are still those who place obstacles to the revelation of the truth of what happened in these bombings 40 ago."
Earlier this week, the victims and families of those who died in the bombings said they intended to sue the British government in Belfast.
They claim the attacks were carried out by loyalists with government collusion and that there was a cover-up.
Three bombs exploded in Dublin on 17 May and one in Monaghan.
Nobody has ever been charged in connection with the attacks.
It is alleged that loyalist paramilitaries, the Ulster Volunteer Force (UVF) carried out the attacks with the knowledge and assistance of elements of British security and intelligence services in Northern Ireland.
A 2003 report by Mr Justice Henry Barron, formerly an Irish Supreme Court judge, said there were grounds for suspecting the bombers may have had help from members of the British security forces, but there was no conclusive proof.