Lord Ballyedmond: Family wealthiest in NI, Sunday Times suggests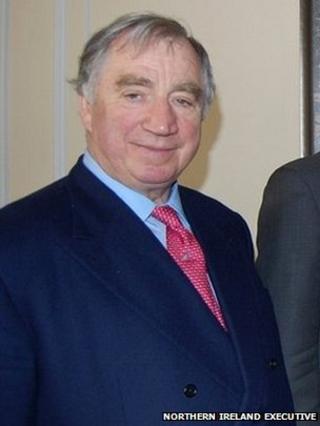 The family of the late industrialist Lord Ballyedmond are the wealthiest people in Northern Ireland, the Sunday Times rich list has suggested.
The newspaper estimates the wealth of Lady Ballyedmond and her family at £1.4bn, up by £540m last year.
Lord Ballyedmond, Edward Haughey, died in a helicopter crash in Norfolk earlier this year.
He was the founder of the pharmaceutical firm, Norbrook Laboratories.
The Ballyedmonds are only the second Northern Ireland family to have been classified as billionaires by the rich list.
The first was the family of Sean Quinn, though they have now lost much of their fortune.
Among the major gainers on the list are Paul and Jeremy Eakin and their families.
They are now ranked third in Northern Ireland with a fortune put at £310m.
According to the list, they have seen their wealth grow by £100m in the past 12 months due to the success of their TG Eakin medical supplies company, which is based in Comber.
The other people in the top five are the actress and producer Roma Downey - the fortune she shares with her husband, Mark Burnett, is estimated at £340m.
The fourth person on the list is Danny Hill (£233m) who is originally from Belfast, but moved to Australia more than 50 years ago.
He made his money in mining and property.
The low-profile Barnett family (£182m) are ranked at number five - they have transformed their grain trading business into a global commodities and agri-business firm.