New York Stock Exchange selling Belfast technology division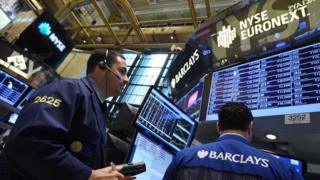 The company that owns the New York Stock Exchange (NYSE) says it hopes to sell the bulk of its technology division, which employs about 400 people in Belfast, within months.
Intercontinental Exchange (ICE) bought NYSE Euronext for $11bn in 2013.
That deal included NYSE Technologies which has a major presence in Belfast.
At the time of the takeover ICE said it intended to sell most of the technology businesses and now said it hopes to do a deal this summer.
In its first quarter results, ICE said it would sell the Trading Solutions and Transaction Services which primarily consist of the NYFIX, Wombat and Metabit technologies.
The Belfast operation grew out of Wombat, which NYSE bought in 2008.
ICE said it could sell the technology businesses lines as a whole or in parts.
It added that it is "actively marketing the sale of these businesses" and that "divestiture is expected to be completed this summer".
It has previously been reported that ICE has hired an investment bank, Evercore, to run the sales process.
Potential buyers could include BME, which operates the Spanish stock exchange, or the New York-based Investment Technology Group.
ICE will retain some technology businesses including a financial transaction network called Secure Financial Transaction Infrastructure, or SFTI, which connects firms and exchanges worldwide.