Auditor general criticises NI Policing Board over performance targets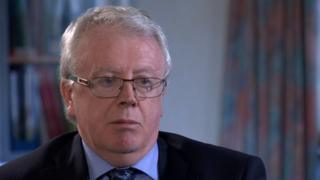 The auditor general has criticised the way the Policing Board holds the chief constable and the Police Service of Northern Ireland to account.
For a second successive year, an Audit Office report has criticised a "lack of specific targets for police performance".
The report said this could reduce the effectiveness of the board's scrutiny.
It is the job of the Policing Board to assess the performance of the chief constable.
One of the ways it does this is by publishing annual policing plans, setting out objectives and priorities and indicators to measure performance.
After examining the plan for the past financial year, the Audit Office said the performance measures lacked sufficient clarity about the degree of improvement needed.
This is a case of déjà vu for the board - the Audit Office made similar criticisms in September last year, and in some cases used exactly the same words.
Auditor General Kieran Donnelly repeated a warning that the absence of clear targets meant the effectiveness of the board's scrutiny, and its accountability, would be diminished.