Loyalist Mo Courtney avoids jail over Raymond McCord threat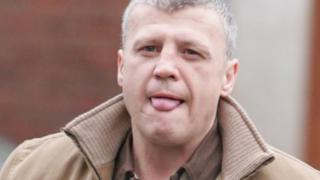 A top loyalist convicted of threatening to kill high-profile victims campaigner Raymond McCord has been given a three-month suspended jail sentence.
William 'Mo' Courtney was told he would have gone straight to prison if the offence had been committed after he was dealt with for a separate assault.
That attack was on Tracey Coulter, the daughter of a loyalist feud victim.
Courtney, 50, denied any encounter with Mr McCord at a traffic junction in Belfast last December.
Ms Coulter was in the car with Mr McCord at the time.
Belfast Magistrates' Court heard that as their vehicle stopped at lights in the Peters Hill area, Courtney walked past, recognised the pair and made rude gestures.
It was alleged that Mr McCord then got out of the car and challenged the defendant.
According to the prosecution Courtney replied: "Beat you, I will ****ing kill you. Come on up the road."
Head-butted woman
Weeks earlier, the defendant, of Fernhill Heights, Belfast, had been found guilty of head-butting Ms Coulter during a confrontation.
However, a four-month suspended prison sentence for that assault was only imposed after the traffic lights confrontation.
Despite his denials Courtney was found guilty of threatening to kill Mr McCord. He was acquitted on a second charge of harassing Ms Coulter.
A judge accepted the threats were nothing more than part of a verbal altercation.
Imposing a three-month jail sentence, suspended for two years, she said: "He is not in breach of the (previous) suspended sentence, otherwise he would be in immediate custody."