Comber alleged flasher 'was only scratching itch'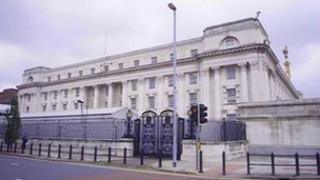 An alleged flasher was just scratching "a severe itch" when one woman accidentally spotted him, the High Court in Belfast has been told.
Francis Graham, 58, of Glen Road, Comber, is accused of targeting three different female motorists at the same location in County Down.
He denies the indecent exposure charges, claiming one incident involved a complete misunderstanding.
The judge refused bail due to the potential risk to the public.
'Zip opened'
Mr Graham was arrested last Sunday after a woman claimed he had exposed himself to her near his home.
The court heard that he told officers: "I know what you're talking about but it was completely accidental."
A prosecution lawyer said Mr Graham had offered an alternative explanation.
"He stated that he was scratching himself due to a severe itch and his zip opened," the barrister said.
Further charges were then brought over two earlier incidents at the same location on 29 March.
A defence lawyer said his client denied any involvement in either incident.
Dealing with the most recent allegation, the lawyer said: "He made his case to police that there's been some sort of misunderstanding.
"The court may view that with a degree of scepticism, but he did tell police it was accidental.
"He was experiencing pain in his groin area and was examining this and didn't intend to specifically expose himself to anyone."
The judge described the alleged behaviour as utterly unacceptable.
Refusing bail, he said: "I consider there's a real risk of re-offending."