Belfast council industrial action threat over leisure plan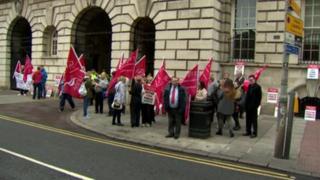 Belfast City Council has been threatened with industrial action if it votes to outsource leisure services.
On Friday a council committee endorsed the outsourcing proposal. It will now go before the full council on 1 May.
The Nipsa union has said that around 300 jobs would be affected if the changes go ahead.
It said a report claimed the council proposals were "economically flawed", and that it "won't rule out taking industrial action".
Nipsa members protested outside city hall before the policy and resources committee met.
In February, the committee voted in favour of the outsourcing operation by a margin of 10 to six.
'Warning'
The council then deferred a final decision to allow trade unions to make alternative proposals, and for a report to be prepared.
Bumper Graham, Nipsa assistant general secretary, said: "The report confirms that the in-house bid is the best model, it rejects the council's model and says it is economically flawed.
"If we want to improve leisure services in Belfast, make some savings and provide a better service to the public, then the model to go forward with is in-house provision which means leisure services being delivered by Belfast City Council staff.
"We hope we will be listened to, but if we're not I'm giving a warning to the councillors that there's an election coming up, that will be dealt with in the elections, but also we don't rule out taking industrial action to secure what we want to see, which is improved leisure services delivered by leisure services staff."
A statement from the council said: "A new leisure trust model has been backed by Belfast City Council to transform its leisure services.
"The council's strategic policy and resources committee confirmed this morning (Friday) its decision taken in February, as part of a £105m investment over the next 10 years to improve leisure provision in the city."
Ten leisure centres are currently operated by the council in the city.