Norman Tebbit rebuked by Tory over Martin McGuinness shooting jibe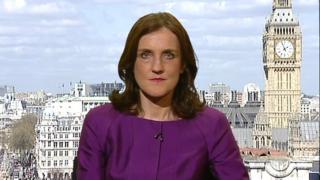 Conservative peer Lord Tebbit has been rebuked by a minister in his own party after he said he hoped that Sinn Féin's Martin McGuinness would be shot.
Northern Ireland Secretary of State, Theresa Villiers, said Lord Tebbit's remarks were "highly dangerous".
The peer, whose wife was paralysed by an IRA bomb, said he hoped dissident republicans would shoot Mr McGuinness for attending a royal banquet.
Ms Villiers said "nothing can justify calling on anyone to commit murder".
Lord Tebbit made the remarks after Mr McGuinness, a former IRA member, was invited to a banquet at Windsor Castle on Tuesday night.
'Unacceptable'
The event was hosted by the Queen, in honour of Irish President Michael D Higgins, who is on a four-day state visit to the UK.
Lord Tebbit told a radio programme: "There's always the possibility that a member of the Real IRA will be so outraged by Mr McGuinness bowing to the Queen that they might shoot him in the back for it. We can but hope."
Ms Villiers has described the peer's remarks as "unacceptable".
Speaking to BBC Northern Ireland's The View, she said: "I of course recognise that he has suffered greatly at the hands of terrorists but nothing can justify calling on anyone to commit murder and I deeply regret those comments being made."
However, she would not be drawn on whether the Conservative party should sanction the peer for his remarks.
"Lord Tebbit is an individual who speaks his mind," Ms Villiers told the programme.
"It's not for me to say if sanctions should be or should not be applied, but those comments were unacceptable.
"It is still a matter of genuine regret that threats are made against politicians in Northern Ireland, so I think it highly dangerous of Lord Tebbit to make those remarks in the present security situation," she added.
'Shocking'
The peer and his wife Margaret were badly injured in the Brighton bombing, when the IRA blew up The Grand Hotel during the 1984 Conservative Party conference.
Mr McGuinness has previously received death threats from dissident republican paramilitaries over Sinn Féin's support for the Police Service of Northern Ireland.
His party has described Lord Tebbit's comments as "shocking" and "unacceptable".
Ms Villiers' interview will be broadcast on The View on BBC One Northern Ireland at 10:35 BST.