Horsemeat scandal: Public confidence in large shops 'declined'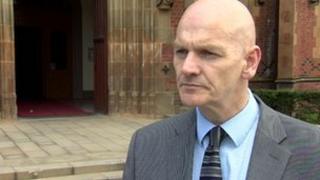 Public confidence in large retailers has declined dramatically following last year's horse meat scandal, a Queen's University academic has said.
Prof Chris Elliott is leading a government-commissioned review of the UK's food supply chain.
His comments come ahead of a major conference on food integrity and traceability this week.
Prof Elliott said more needs to be done to ensure people know exactly what they are eating and where it originates.
"Recent statistics say that only about 60% of people trust what comes from the major retailers now," he said.
"It has dropped dramatically since the horsemeat scandal.
"Whereas, many more people trust what they buy from the local butcher, from the local bakers; that it's true and genuine and high quality."
Conference
Professor Chris Elliott is the director of the Institute for Global Food Security based at Queen's University in Belfast.
He is leading a review into the food system following revelations last year that some beef products sold and supplied in the UK contained horse DNA.
This week, a global conference of experts is taking place in Belfast to discuss measures to ensure supplies are authentic.
Prof Elliott said: "Fortunately consumers in the UK and Ireland have access to perhaps the safest food in the world.
"Major scientific advancements are being made to help minimise risks to the food chain.
"Scientists at Queen's are at the forefront of these developments, working with the agri-food industry to develop the latest techniques to detect and deter food fraud."
A Defra spokesperson said: "As Professor Elliott has said, UK consumers have access to some of the safest food in the world, and we want to keep it that way.
"In the last year, we have helped prevent food crime by increasing unannounced inspections of meat cutting plants and boosted funding to £2m to support local authorities' food sampling programme.
"We await Professor Elliott's final recommendations on further action to protect the integrity of our food."