NI businesses 'groomed' in phone fraud scam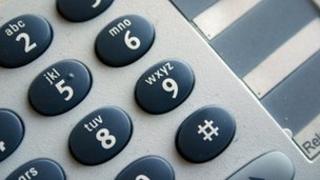 Some Northern Ireland businesses have fallen prey to a sophisticated phone scam that involves a form of grooming.
The BBC has learned that, in one case, a firm lost more than £300,000 to the fraudsters.
The police said both businesses and personal account holders across Northern Ireland were being targeted.
Det Const Stephen Crooks said the fraudsters use a process of "social engineering", or grooming to make victims comply with their requests.
"They are carrying out detailed research on these customers before making numerous phone calls to them," he told the BBC.
"During some phone calls they are gleaning information in relation to the accounts and the businesses themselves."
The police said the criminals tell their would-be victims that they represent the bank or another well known company and have already garnered some information about the company or individual.
During the course of a phone call or email, they elicit enough information to take control of the online banking.
Police said those behind the scam are organised and knowledgeable both about systems and the companies they claim to represent, as well as the people that they victimise.
Det Const Crooks said the criminals were targeting businesses that they believe may have a lot of cash in their accounts.
"They convince you that they are from the bank and you are talking to a legitimate person and they may even suggest that you call them back and they will supply you with a telephone number.
"They suggest you hang up and then call back.
"The problem is you may think you have ended the call. (But) it takes two parties to end the call so it can remain open for several minutes.
"It's even been known that when people try to lift the phone again to call back, the criminals will play a dialling tone down the phone line, making you think that you are making a genuine call.
"If you are going to phone contact the bank with the number that you have yourself, but... do it from a separate phone. So if you are contacted by landline, phone the bank back on a mobile."
The police have urged people to be aware of online security threats.