James McSorley refused bail over Armagh 'cannabis factory'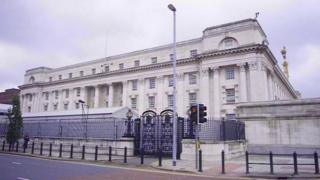 Cannabis worth up to £250,000 was seized from a sophisticated drug factory operating in Armagh, the High Court in Belfast has been told.
About 170 plants were discovered in a rented house on the city's Newry Road, prosecutors said.
Details emerged as one of two men arrested at the scene 10 days ago was refused bail.
James McSorley, of Castle Street, Armagh, is charged with cultivating and possessing drugs with intent to supply.
He faces a further charge of having criminal property, which relates to the recovery of 40,000 euros (£33,000) in cash from inside a bathroom bin at his Castle Street home.
Mr McSorley denies the allegations and said the money came from a road traffic accident claim.
Growing rooms
The 40-year-old is also accused of dishonestly using and diverting electricity as part of the alleged cannabis-growing scheme.
The seized plants were discovered in a caged-off upstairs area of the rented property on Newry Road.
Mr McSorley was detained along with his co-accused after police raided the house on 10 March.
A prosecution lawyer told the court the drugs were found in four growing rooms on the first floor.
"There was a cage preventing access to the upstairs and the prosecution say it was a deliberate security measure," he said.
Uncertainty
Mr McSorley is alleged to have been carrying keys for both the house and the cage.
The seized cannabis has an estimated street value of between £70,000 and £250,000.
The wide range in its potential worth is due to uncertainty about the maturity of the plants.
However, the prosecution lawyer said: "It was, on my instructions, a sophisticated operation."
A defence barrister disputed the prosecution assessment of the alleged factory and told the court Mr McSorley should be released, adding that there was no suggestion of any intelligence against his client.
However, the judge refused bail after citing the potential risks of re-offending and flight.
The judge said: "It's clear that this was a substantial operation by any measure for the cultivation of cannabis plants."