John Proctor's widow address victims ceremony at Stormont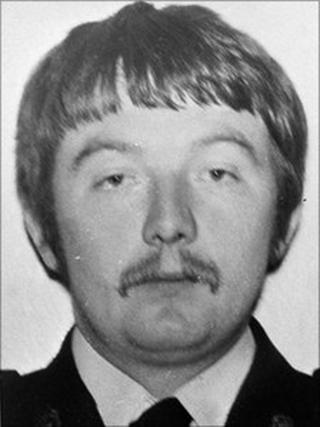 The widow of murdered RUC reservist John Proctor has told a victims ceremony at Stormont that her prayers were answered when his killer was convicted 32 years after his death.
Seamus Kearney was found guilty in December 2012 of killing RUC Reserve Constable John Proctor as he visited his wife and new-born son in hospital.
He was sentenced to life, but will only serve two years.
June McMullin described the time he will spend in jail as "a joke".
She was lying in her hospital bed together with her newborn son John when she heard the sound of her husband being ambushed as he left following a hospital visit.
Mrs McMullin described Seamus Kearney as a "scumbag" who had shown no remorse in court.
She said her family's day had come when the guilty verdict was passed, but was critical of the fact that he would only serve two years in prison under the terms of the Good Friday Agreement.
She told MLAs that after the family heard the verdict: "We were delighted as a family, but there were three people missing - Johnny's mummy and my parents.
"I know the HET (Historical Enquiries Team) doesn't work for everyone, but for us, we got a result, we got closure. We saw this as justice, a guilty verdict.
"The time he has to serve is a joke, the Good Friday Agreement seemed to be the way forward but no-one knew the outcome would be convicted terrorists only serving two years in jail.
"We served a life sentence without a son, a husband, a father, a brother."
She added: "Justice should be balanced and not leaning to the perpetrator as it does now."
Mrs McMullin was speaking at an event hosted by TUV leader Jim Allister to mark the European Day in Remembrance of Victims of Terrorism.
In February, a legal bid by Kearney to have his conviction overturned was dismissed by the Court of Appeal.
Kearney's lawyers claimed he was wrongly convicted on the basis of DNA on cigarette butts found at the scene but the court upheld the DNA evidence.
The three Appeal Court judges ruled that the judge in the original non-jury trial was entitled to conclude the stubs were smoked and discarded immediately prior to the shooting.
Rifle
Kearney, 57, of Gorteade Road, Maghera, County Londonderry, was sentenced to at least 20 years in jail for the murder, which was carried out in September 1981.
He had denied murder and possessing an Armalite AR15 rifle.
But the trial judge found him guilty after hearing key evidence that his DNA profile was on a cigarette butt found among spent bullet casings at the scene.
Kearney was found to be either the gunman, the driver of a Ford Escort RS200 used by the killers, or an occupant of the car present to provide support.