Chartered Accountants Ulster Society says NI banks must lend more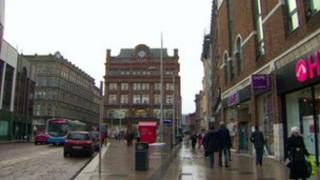 Northern Ireland's emergence from recession is being hindered by "a lower appetite" from banks to lend, according to new research.
It was carried out by the Chartered Accountants Ulster Society.
It surveyed 265 chartered accountants who said the pace of economic recovery could be hampered by a lack of available finance.
The society's chairman, Darren McDowell, said the "funding challenge" must be addressed.
"This survey shows that Northern Ireland's economic recovery is underway," he said.
"Our members feel that the longest recession in living memory is coming towards an end and there is much greater optimism around business conditions compared to this time last year."
Mr McDowell said while this was "very welcome news" in light of the "very challenging business environment" over the last few years, work was needed to keep the "recovery going".
"Local businesses are calling for greater access to finance to encourage growth and our members feel that viable expansion plans are being put on hold due to businesses not being able to access funding," he said.
Almost 80% of those surveyed believed businesses were putting viable expansion plans on hold because of a perceived lack of finance.
Part of the problem is also that businesses are less able to provide sufficient security against new borrowing.
"There is a need for banks, alternative funders, advisors and the business community to work together to address the funding challenge to ensure that we nurture a real recovery," he added.