Legal highs: Belfast City Council given permission to destroy seized products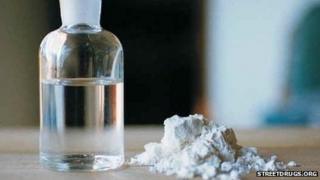 Belfast City Council has been granted permission by a court to destroy seized substances that it believes are "legal highs".
The substances were confiscated from Soho Bookshop at Gresham Street in the city centre last November.
A forfeiture order was granted against the shop's owner at Belfast Magistrates Court on Tuesday.
The council's lawyers had argued that the labelling and safety information on the products was inadequate.
It follows action taken by the council to remove similar products from five city centre shops.
'Innovative approach'
"We are delighted that four of the five original sellers co-operated with the council and are no longer supplying these products," said a council spokesperson.
"The court today agreed that the substances seized don't meet the necessary safety requirements.
"Just because a substance is legal does not mean that it is safe; these products are a risk to a user's health because their production is not regulated and the consumer simply can't be certain as to what is in them and their potential harmful effects."
Stormont Health Minister Edwin Poots said he hoped other councils in Northern Ireland would follow Belfast's "innovative approach".
He said a wider UK-wide approach was needed.
"I previously raised this issue directly with the home secretary, as I believe the availability of these substances, and incorrect belief that these are legal and therefore 'safe', is directly impacting on the social norms around drug misuse across the UK," he said.
"In response to my concerns the Home Office has now announced that it will lead a review of how the UK's legislative response can be enhanced beyond the existing measures of the Misuse of Drugs Act 1971.
"This review will be informed by a range of evidence including the various international approaches I highlighted, including the Republic of Ireland, the USA and New Zealand. It is anticipated that this review will be completed by spring 2014, and my department will play a full part in this work."
Legal highs, officially known as psychoactive substances, are synthetic drugs that can be bought online and sometimes in shops.
They are often created in laboratories in the Far East and are rushed to European and other markets before authorities have time to ban them.
Several deaths in the UK have been linked to legal highs. More than 200 of the substances have been banned since the coalition government came to power in 2010.