KPL Contracts: NI Assembly to debate 202 job losses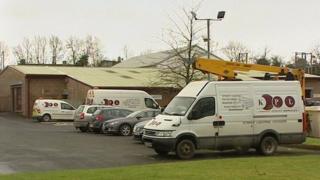 The Northern Ireland Assembly is expected to discuss the loss of more than 200 jobs at a County Londonderry utilities contractor on Monday.
KPL Contracts, based in Dungiven, carried out work for utility firms like BT, NIE and NI Water.
It was placed into administration on Friday, but less than 24 hours later the administrators said efforts to save the business had been unsuccessful.
Sinn Féin MLA Cathal Ó hOisín said it was a massive blow for the area.
"I hope to bring it to the floor of the assembly, just to outline that this is a company that has delivered for the Department of Regional Development and for all the utility companies right across the north," he said.
He said the "expertise, the manpower, the machinery is all on the ground here".
Mr Ó hOisín asked how much that might cost the wider economy, if the work had to be outsourced.
'Break-neck speed'
SDLP MLA John Dallat also said he will attempt to raise the KPL situation "as a Matter of the Day" in the Northern Ireland Assembly on Monday.
Mr Dallat said the job losses have "sent shock waves through a community already reeling from the scourge of unemployment, emigration and a lack of concern from Stormont for inward investment".
The SDLP representative added that confirmation of the redundancies had come "at break-neck speed from the liquidators within 24 hours of assuming responsibility for the crisis".
"Over the next few days people will want answers to many questions about KPL and how a seemingly profitable company arrived at this situation where not a single job can be saved.
"All of us, and especially government ministers have a duty to assist in the discovery of what happened, what lessons can be learned, and most importantly to ensure that any investigation into this crisis will help avoid a similar situation to others in the future," Mr Dallat said.
Collapse
The firm installed and maintained water, sewage, telecoms, electricity, and street lighting facilities.
KPL Contracts' utilities business had been performing well, but the firm had also borrowed ten of millions of pounds to get involved in property development.
Those debts put a major strain on its core business, ultimately leading to the collapse of the firm.
KPL Contracts was founded in 1994 by Kevin Lynch who had been carrying out contracting work as a sole trader since 1983.
He grew the company to become one of the leading utility contractors in Northern Ireland, working in areas from street lighting to wind farms.
KPL Contracts also got involved in property, planning a massive development in Ballyclare, known as Westlands.
However, only the initial phase was developed.