South Armagh fuel plants 'could have cost £18m in lost revenue'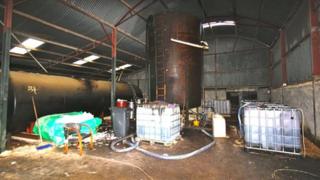 Three fuel laundering plants capable of producing 26m litres of fuel a year have been uncovered by revenue and customs officers.
The plants in Cullaville, County Armagh, had an automated filter system for bleaching agricultural diesel.
Two of the plants were in domestic premises, and the third was in a nearby shed.
Customs officers said revenue lost to the public purse would have totalled £18m.
Fifty tonnes of toxic waste was removed from the sites.
So far, there have been no arrests in connection with the find.