Frazer court: Police struck deal with flag protesters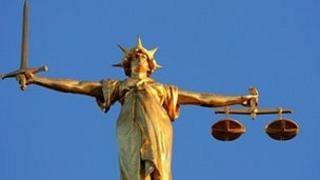 Police allegedly struck a deal with loyalist representatives to allow a union flag protest parade to take place, a court has heard.
It was claimed the agreement was reached in return for guarantees of no violence at the march in Belfast.
Willie Frazer, 53, from Markethill, County Armagh, is currently facing charges linked to the flag dispute.
His lawyers want disclosure of any documents from two meetings said to have taken place prior to the march.
They also want to know the identities of those who were in attendance. A judge was told, however, that no notes or records were kept.
Names have, so far, also been held back due to data protection issues.
'Heard on grapevine'
Mr Frazer faces charges including encouraging or assisting offences by making a speech outside Belfast City Hall and taking part in an unnotified public procession on 19 January last year.
As part of his defence to the charges, his legal team has mounted an application to be given all material from two meetings earlier that week.
A defence lawyer told Belfast Magistrates Court that Mr Frazer "heard on the grapevine" that senior police met with community representatives ahead of the 19 January procession.
"In a nutshell, (he heard) that police had reached an agreement with loyalist representatives in east Belfast to allow the parade to take place," the lawyer said.
"The quid pro quo was that those on the ground would then ensure no violence."
'Not treated fairly'
An Irish News article at the time, reporting that loyalists would be on the streets to bring trouble to an end, strengthened this belief, according to the defence.
The lawyer claimed that no satisfactory answers have been given to the disclosure requests.
"At the end of the day, the defence is not being treated fairly in this case," he said.
"It seems there was a meeting at a senior level with the powers that be, or community leaders for want of a better word, where an agreement was discussed in relation to this march, and that was never passed down to the foot soldiers.
"They are now trying to prosecute this particular defendant who was involved on the day, without telling him about this going on in the background."
Questioned by the judge, a prosecution lawyer confirmed that the information from police was that there were no notes, emails or memos following the meetings.
The judge said that any alleged inconsistencies in the police statements could be dealt with at trial.
Stressing that a reasonable explanation could still be provided, she adjourned the disclosure application for two weeks to allow the prosecution to make further inquiries.