NI unemployment falls for 12th consecutive month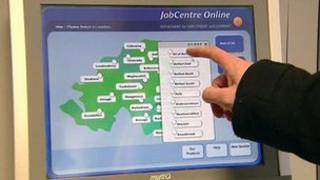 The number of people claiming unemployment benefit in Northern Ireland has fallen again, for a 12th month a row.
Government figures show a drop of 600 in the month of January to 58,700.
However, the unemployment rate continues to fall at a slower rates than the rest of the UK.
The seasonally adjusted unemployment rate stands at 7.4% which is above the national average.
In fact, the rate which is based on the labour force survey, showed a 0.1% quarterly increase between October and December.
Just under half of the number of people who are out of work have been unemployed for a year or more.
The figures also reveal the unemployment rate for 18-24 year olds is 23.2%, that is up 2.8% across the year.