Woman taken to hospital after inhaling boiler fumes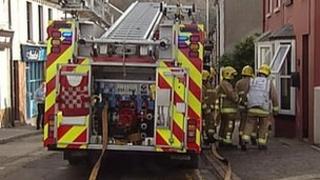 A woman has been taken to hospital after inhaling fumes from a faulty boiler at her home in Rostrevor, County Down.
The emergency services were called to the house on Bridge Street at about 13:00 GMT.
A couple and their young child were in the property at the time.
Station commander David Lonnen, who was in charge of the operation, said the woman was suffering from "mild inhalation" of the boiler fumes.
He said fire crews with breathing equipment were sent into the house to investigate after the family reported smelling fumes.
"They discovered it was due to a faulty oil burner at the back of the house. The burner was in severe need of servicing," the station commander said.
"The woman has been taken by paramedics for treatment."