Dickson Plan: Board scraps plan to merge schools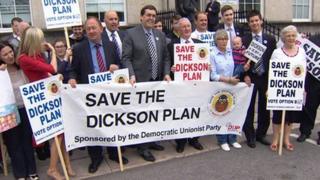 Campaigners trying to save grammar schools in the Craigavon area say they have won a battle with the Southern Education and Library Board.
Last summer, the board voted to merge two grammar schools with high schools, making them all-ability.
However, protesters said that would dismantle the grammar school system and destroy the popular Dickson plan.
The board now plans to appoint an independent person to try to find another solution.
The Dickson Plan selects pupils for grammar school at 14 instead of 11.
It has allowed children to attend junior high schools for three years, before transferring to grammar schools or senior high schools to complete their compulsory education.
Bi-lateral
It has been in place in post-primary schools in north County Armagh, but does not operate elsewhere in Northern Ireland.
Ulster Unionist MLA Jo Anne Dobson said she was delighted that common sense had prevailed and the board had bowed to public pressure.
The board had backed an option that envisaged Clounagh, Killicomaine and Tandragee junior high schools merged into one junior college.
Under this proposal, both Portadown College and Lurgan College would become bi-lateral schools with both grammar and secondary streams.
In a statement at the time, the board said retaining the status quo was "not an option".
Education Minister John O'Dowd said: "I am deeply concerned that despite recognition now for several years that all pupils in the controlled sector do not have access to equitable educational provision, the board has failed to come forward with a plan to resolve this inequality.
"The board has a legal duty to act to remove barriers to the provision of its services on the basis of equality. It is obvious that the current structures being provided are failing too many young people in the Dickson Plan area.
"I will be seeking robust assurances aligned to a timeframe from the board as to how they intend to eradicate education inequality for the controlled sector in the Dickson Plan area."