Lagan Construction Group says Lisburn quarry wrongly attacked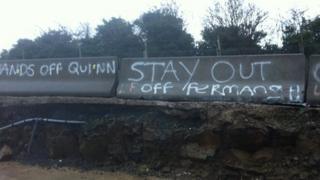 A construction company has said it was wrongly attacked as part of a series of incidents at businesses formerly owned by Sean Quinn.
Lagan Construction Group's quarry at Pond Park in Lisburn, County Antrim, was attacked on Tuesday 4 February.
Graffiti left at the site said "Hands off Quinn" and "Stay out of Fermanagh".
Lagan Construction Group said that it was not connected to Lagan Cement Group, which is hoping to take over former Quinn company Rooftiles.
Lagan Cement is owned by Kevin Lagan while Lagan Construction is owned by his brother Michael.
The brothers were formerly in business together but split their interests in 2010.
The attack caused "significant financial damage to plant and equipment" said a spokesperson for Lagan Construction.
They added: "This is a wanton act of destruction with no purpose other than to damage company property and threaten jobs.
"This type of behaviour is not only criminal, but it is nonsensical. Lagan Construction Group is not connected in any way to the former Sean Quinn businesses now owned by Aventas, nor is it involved in the reported purchase of Quinn Rooftiles."
The Lisburn attack was the first of three made since the proposed takeover of Rooftiles was announced.
Equipment and machinery were damaged in arson attacks at Lagan Cement Group's premises in Comber, County Down, and Carrigtwohill, County Cork.
The company said the attacks caused damage of more than 1m euros (£820,000).
Rooftiles is based in Derrylin, County Fermanagh.
The Aventas Group said the attacks are linked to similar attacks on their company.
'Scandalous attacks'
Aventas is the new name for the former Quinn Group of companies, which collapsed in 2011.
In a statement the company said: "These scandalous attacks orchestrated by a small group of criminals and their equally criminal sponsors are directly connected to similar attacks on Aventas property over a lengthy period of time.
"These criminals seem to think that a continuation of such activity will somehow intimidate the current owners of these businesses into reinstating the former owner, which is very much misjudged."
Lagan Cement also condemned the "outrageous attacks" and said: "As an indigenous Irish company, Lagan is committed to providing long-term, quality employment for workers at all its localities.
"There is no justification for acts of wanton vandalism against the company and these will not be tolerated."
The company said it was co-operating with police in Northern Ireland and the Republic of Ireland.
A number of previous attempted arson attacks on Quinn Group property were condemned by the company's former owner, Sean Quinn.