Giro d'Italia: Plea to NI parties to take down posters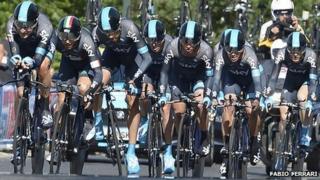 Political parties in Northern Ireland are being urged to take down their election posters during the Giro d'Italia cycle race this year.
The race, which starts in Belfast for the first time, coincides with the European and local council election campaigns in May.
The Giro d'Italia stages in Northern Ireland take place from Friday 9 May to Sunday 11 May.
Polling day for the European elections is on 22 May.
With a global audience of more than 775m watching on television, some believe scenic pictures of the race route could be spoiled by thousands of election posters.
There are also fears that a 'poster race' could start, with parties competing for lamp-posts in prime sites such as Titanic Belfast and Belfast City Hall, which are being used as start and finish locations.
Day three of the race begins in Armagh.
Local councillor Gerald Mallon, of the SDLP, believes there should be a deal between the parties to keep lamp-posts clear for three days.
Mr Mallon said: "I would like to see the course become poster-free with the agreement of all of the parties."
Distracting
Organisers of the race would welcome such a move.
One source said: "We want to show off Northern Ireland and its beautiful scenery. It's in the best interests of everyone that there are no distractions."
The route of the race takes in some of Northern Ireland's best-known landmarks, including Stormont and the Causeway coast.
Any deal to keep the route poster-free would need to involve independent candidates as well as the political parties.
Many of the world's top 200 cyclists take part in the race, which is expected to attract around 140,000 spectators.
It is one of cycling's most famous events and TV coverage is watched every year in 165 countries.