Anglo Irish Bank trial: Sean Quinn testifies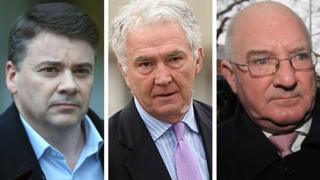 Fermanagh businessman Sean Quinn suspected the Anglo Irish Bank made a sweetheart deal to unwind his secret shareholding in it, a court has heard.
Mr Quinn, once Ireland's richest man, was giving evidence at the Dublin trial of three former bank executives.
Sean FitzPatrick, 65, Willie McAteer, 63, and Patrick Whelan, 51, deny 16 charges of lending bank money to individuals to buy bank shares.
The individuals include six members of the Quinn family.
On Monday, Mr Quinn told Dublin Circuit Criminal Court that chiefs of the now defunct Anglo Irish Bank, made it clear in a series of meetings in 2008 that part of his secret stake in the bank was being sold off in ordinary shares to investors.
"We were just wondering was there some sweetheart deal," the bankrupt former tycoon said.
"It certainly was not for our benefit."
A sweetheart deal is a sale with exceptionally attractive terms, especially offered between persons with an ongoing business relationship.
Mr Quinn effectively owned 29.3% of Anglo by 29 March, 2008.
That was less than a fortnight after the bank's value fell by a fifth in the 'St Patrick's Day Massacre' stock market collapse.
The court heard of three phone calls between Anglo's chief executive at the time, David Drumm, who is living in the US and is not on trial, and Mr Quinn on a Thursday, Friday and Monday in mid-July 2008.
'Objected strenuously'
Mr Quinn said he had no discretion on the deal.
"And he (Mr Drumm) told me that in no uncertain terms," he said.
"I'm not sure it was discussion. He just told me what he was doing and I objected strenuously."
Mr Quinn added: "It started off friendly but it did not end that way. David Drumm walked out after about 10 minutes and I walked out after him, from a different part of the world."
The secret gamble on Anglo stock was run by a Portuguese-registered company, Bazzely Ltd, set up as an investment engine for the Quinn family.
It used contracts for difference (CFDs), a loosely regulated investment derivative that, at the time, did not have to be publicly divulged and essentially amounted to undeclared bets that the share price would increase.
Mr Quinn told the court that it was part of their business approach to go "under the radar".
The July 2008 proposal involved selling 10% of the Quinn share position.
Mr Quinn said he did not agree with a plan to sell off his investment when the share price had fallen by 40% while profits were up by 40% for 2007.
The three accused pleaded not guilty to providing unlawful financial assistance to individuals in July 2008 for the purchase of shares in the bank, contrary to Section 60 of the Companies Act.
Mr Whelan has also pleaded not guilty to a further seven charges of being privy to the fraudulent alteration of loan facility letters to seven individuals.
Lawyers for Mr FitzPatrick and Mr Whelan have said they accept the loans were made but they deny any illegality.
Mr FitzPatrick, of Whitshed Road, Greystones, County Wicklow; Mr McAteer, of Auburn Villas, Rathgar, south Dublin; and Mr Whelan, of Coast Road, Malahide, County Dublin, are on bail.
The trial is expected to run until the end of May.