Two men injured in shooting in Bangor, County Down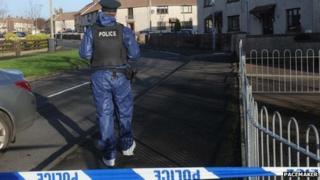 Two men have been shot in Bangor, County Down.
One was shot three times in his chest, the other in a leg. It happened at the junction of East Way and Whitehill Drive in the Whitehill estate at about 01:00 GMT on Monday.
It is understood the man shot in the chest is in a stable condition in hospital, while the other man discharged himself.
Police have appealed for anyone with information to contact them.
DUP assembly member Alex Easton said it was a "worrying disturbance".
"Whitehill has been progressing over the years, it is a close-knit community and this is a big setback for everybody," he said.
There is a strong police presence in the area and their operation is expect to continue for some time.