Ex-prostitute in Stormont sex trade law appeal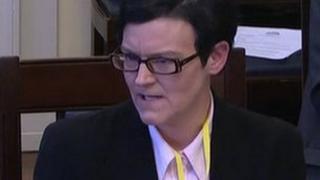 A former prostitute has made an emotional appeal to Northern Ireland MLAs to pass a proposed law on human trafficking and the sex trade.
Mia De Faoite said that prostitution led to human trafficking and had no place in a humane society.
"We either choose one or the other - I implore you to come to a wise choice," she told Stormont's Justice Committee.
Ms De Faoite said she was repeatedly raped and abused during the six years she worked on the streets of Dublin.
"Rape does become part of the job, so much so we don't even use the term rape," she said.
"We don't have permission to."
She added: "Every prostituted woman has a rape or sexual assault CV. Here is mine."
The Human Trafficking and Exploitation Bill, proposed by the DUP's Lord Morrow, is currently at committee stage.
If passed, the bill would make it illegal to pay for sex in Northern Ireland and would boost support for trafficking victims.
Ms De Faoite, now a grandmother and a second-year student in philosophy and sociology at Maynooth, said she became a prostitute after becoming a heroin addict, a decision that she said seemed rational in her drug-altered state.
'Unimaginable horror'
She told assembly members how she was raped by eight men after a party where she was paid for sex.
The atmosphere changed after hours of drug and alcohol consumption by the men, she said, and she and her friend were raped repeatedly.
Ms De Faoite said they were subjected to an "unimaginable horror".
"We were like rag dolls, not even. We were just objects to be passed around," she said.
"My skin was crawling and my insides felt like they would come right into my throat."
She said her friend Jenny had died months later, ostensibly of a drug overdose.
"It might have been heroin in her arm the day she died, but I know what really killed her. Today I am her voice also," she said.
Ms De Faoite said other rapes took place over the years, including separate assaults in one evening.
She said she had no sympathy for men who paid for sex, and spoke of how one of her friends, also a prostitute, was a victim of human trafficking.
She urged politicians on the committee to allow "good to triumph".
MLAs on the committee kept their eyes down in silence as she spoke.