Family held hostage at gunpoint in Belfast robbery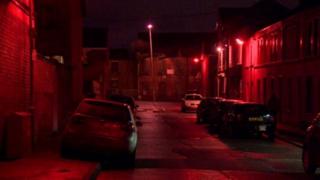 A family has been held hostage at gunpoint after a robber, disguised as a postman, tricked his way into their home in Belfast.
The man produced a gun and demanded money after the family let him into their home in the west of the city on Wednesday morning.
The robber held two of them hostage while another member of the family went to his workplace to collect money.
He gave the cash to members of the gang at Fallswater Street at 09:30 GMT.
The alarm was raised after the money was handed over to the robbers.
After their ordeal, one of the family members was taken to hospital for a check-up, but was later released.
Police have appealed to anyone who saw a man, carrying a holdall bag, get out of a silver car in Fallswater Street, off the Falls Road, at about 09:30 GMT.
He handed the holdall to another man, who then walked in the direction of Iveagh Street.
Anyone who witnessed the incident is asked to telephone detectives on 0845 600 8000.