Ballyhalbert: Coastal surge leaves 'hole in road'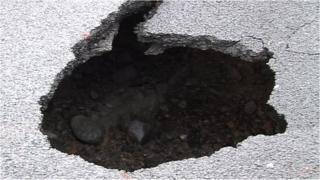 A section of a coastal road in County Down has collapsed following record rain levels and tidal surges recently.
The hole has developed in Ballyhalbert, on the Ards peninsula. It was discovered late on Tuesday night.
Resident Cedric Wilson called for the roads service to take action.
"A very large hole has appeared on the main, arterial route through the village and it is only by pure fortune that we are not talking about a fatality here this morning," he said.
"There are four or five buses that come past here every morning full of schoolchildren on their way to the local college, I have no doubt those buses could have well disappeared down into this chasm.
"This isn't a small pothole or a hole in the road, this is a major undermining of the main shore defence wall."
Jim Palmer, chairman of the Ballyhalbert community association, said the coast road from Donaghadee to Portaferry had been gradually washing away.
"The powers that be come out and do a cosmetic job on it. They brush it up, they brush it back onto the beach. The tide comes in and washes it away again.
"We have road flooding, we have all sorts of weather," he said.