David Ford denies interfering over PSNI chief constable job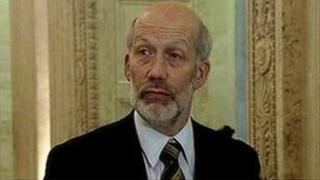 Stormont justice minister David Ford has denied interfering with the work of the NI Policing Board over the appointment of a new chief constable.
He plans to change criteria for the job of head of the Police Service of Northern Ireland.
His plans prompted strong criticism from the DUP and Sinn Féin, who accused Mr Ford of usurping the Policing Board.
However, Mr Ford told Stormont's justice committee he had acted within his power to set the minimum criteria.
He added that it was up to the board to widen that criteria if it wished.
The current PSNI Chief Constable, Matt Baggott, is retiring in September.
At present, applicants must have served at assistant chief constable rank for a minimum of two years outside of Northern Ireland.
The justice minister wants to make this "desirable" rather than mandatory.
However, the justice committee has now agreed to write to the executive demanding that there is no change to the criteria.
Mr Ford clashed with committee members on Tuesday over the issue and he refused to be drawn on whether, he believed, the executive had the power to over-rule him.
The question was put repeatedly by the committee chairman, Paul Givan, and Mr Ford repeatedly answered that he would discuss it with the executive.
Mr Givan said a letter would be sent to indicate the committee wanted the status quo to be maintained as it was "inappropriate" to make changes at this time.
'Badly handled'
The Alliance MLA Stewart Dickson objected, but was out-numbered.
Mr Ford rejected criticism, including an allegation by the committee's deputy chair, Sinn Féin's Raymond McCartney, that he had badly handled the issue.
Mr Ford said he would do the same again.
The matter is how due to be discussed by ministers at next week's executive meeting.
Mr Ford's amendment would have widened the pool of potential internal PSNI applicants.
Potential applicants would, instead, have to have successfully completed the Strategic Command Course, or an equivalent.
As it stood, only one senior PSNI officer, Assistant Chief Constable George Hamilton, was eligible to apply to succeed Mr Baggott as he served almost three years at the same rank in Scotland.
The amendment would mean other high-profile PSNI assistant chief constables who have completed the Strategic Command Course, including Will Kerr and Drew Harris, could apply.
Members of the Policing Board, which appoints the chief constable and holds him to account, said they had been caught by surprise by Mr Ford's announcement.