Judgment reserved in Cardinal Brady and Bishop O'Reilly case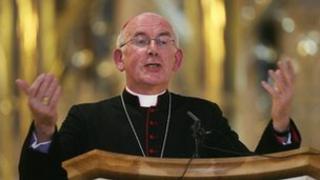 The High Court in Dublin has reserved its decision on an application by a Catholic bishop to dismiss cases being taken against him by three victims of paedophile priest Brendan Smyth.
The Bishop of Kilmore, Leo O'Reilly, is being sued as successor to the previous bishop, Francis McKiernan, as is Cardinal Sean Brady, formerly secretary to the bishop of Kilmore.
The victims accuse them of negligence.
They allege they did not take steps to prevent Smyth from abusing children.
Smyth abused children in the 1970s and the 1980s.
The victims said the churchmen did not report complaints made about Smyth in interviews conducted with two young boys in 1975.
One of the boys identified one of those taking the case as a victim of the priest during these interviews.
Lawyers for Bishop O'Reilly said the man who was named in the interviews cannot continue this action as he received a settlement from Smyth's order, the Norbertines, in 1998.
They said he accepted the settlement of £25,000, as a full settlement of all claims in relation to Smyth.
They say he sued Cardinal Cahal Daly in the original proceedings in Northern Ireland, as primate of All Ireland and representative of the bishops.
They said this was a legal issue and if the court allowed this case to be taken after a settlement had been agreed, it would have implications for all such settlements.
Lawyers for the victims say the fact that one of the boys interviewed in 1975 had disclosed that the man involved in this case was also being abused by Smyth was "actively concealed" in the court proceedings in the 1990s.
Neither his parents nor the civil authorities were informed and the boys interviewed were sworn to secrecy.
The lawyers said if they had known that information they would not have settled the case for such an amount.
They also said the earlier settlement was a partial settlement.
High Court President Mr Justice Nicholas Kearns said he would have to decide on this preliminary issue.
He said he would have to decide if the parties who were sued in 1996 were the same as the parties now being sued.
And he said he would have to decide if the alleged facts and circumstances were the same in both cases.