Philip Strickland murder: 'No DNA link to Jimmy Seales'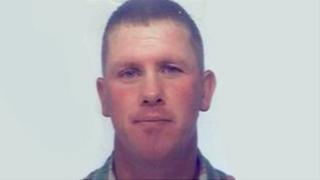 A forensic science expert has told a jury there is no DNA evidence to connect a farmer accused of murder to the victim.
Jimmy Seales, 56, of Ballykeel Road, Hillsborough, County Down, is accused of murdering Philip Strickland on Ballydrain Road, Comber.
He is one of four men accused of the murder but he has denied being at the scene.
Mr Strickland died from a shotgun wound to the face on 11 January 2012.
The forensic expert told Belfast Crown Court he examined several areas connected to the murder, including a yard where Mr Strickland was shot in the leg and a blue Citroen where he received the fatal wound to the face.
The forensic expert also examined clothes worn by Mr Seales, including boots, jeans and a grey fleece.
Under cross-examination by counsel for Mr Seales, the expert said Mr Strickland's DNA was not found on any of the items seized from Mr Seales.
He also said that Mr Seales' DNA was not found in any of the vehicles linked to the murder that were subject to forensic examination.
The trial continues.