Stephen Lowry: first man in Ireland to get bionic hand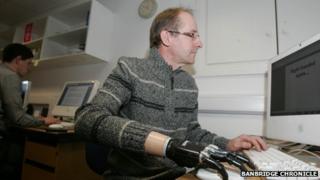 Everybody needs a helping hand sometimes, but for one man from County Down, that help has come in the form of a special bionic hand, after he lost his right hand in a bomb attack nearly 30 years ago.
Stephen Lowry, 51, is now the owner of a revolutionary new bionic prosthetic hand, believed to be the first of its kind in use on the island of Ireland.
Mr Lowry, who is from Banbridge, lost his hand in an explosion at Cupid's nightclub in Newry in September 1985.
He was working there as a DJ at the time and said the loss of his hand was "devastating".
Surgeries
Speaking to BBC Radio Ulster's Talkback programme, he said: "At the end of the night, I was helping to clear up with the guys that worked there, and the bomb was wrapped up in a coat.
"I picked the coat up and it blew up in my face and blew my hand off.
"It was devastating, and very difficult for a long, long time. I think I spent about two-and-a-half months in hospital between different surgeries and skin grafts.
Mr Lowry has been given several cosmetic and prosthetic hands since his injury, and said that as time has passed, life has become less difficult.
'Unbelievable'
He was using an electronic hand up until recently, when he was offered to test out the new bionic hand.
The Bebionic hand is made by Leeds-based company RSL Steeper and was provided to him by Musgrave Park Hospital's Regional Disablement Services.
The prosthesis comes with a flesh-coloured skin glove, and works on advanced sensor technology that picks up the electrical impulses generated from the biceps and triceps of the amputee.
Mr Lowry said it has dramatically changed his life.
"I can hold a pen with it, write with it, and even use a computer mouse with it," he said.
"The fingers move in different directions, and I can point with it - it's unbelievable. It's so easy to use, and it's a real credit to the company that developed it.
"The technicians in Musgrave were also absolutely fantastic about fitting it properly and getting it set up."
Bionic pilot
Despite being unable to do everything that he would like to do, Mr Lowry said even being able to do the little things has made a huge difference.
"It does help out a lot, but there still things that I would love to be able to do, but the hand really does help around the house," he said.
"The most amazing thing for me was to be able to go out to dinner and cut my own steak. Beforehand, I had to ask my wife to cut it up for me and now I can do it myself."
His new hand has also given him the chance to learn to fly an airplane, something he was unable to do before he got the bionic prosthesis.
He said: "I'm still a student but I do all the flying of the aircraft and my instructor is just there to make sure things don't go wrong.
"It's absolutely brilliant to be able to fly the aircraft. The hand has made a world of difference."
'Robocop'
Being the first man on the island of Ireland to get a bionic hand, Mr Lowry said he is very grateful and that a lot of people have been stopping him in the street to ask him about it.
"When I go out and about people say well done or 'that's amazing'. They don't pass any remark," he said.
Stephen also said the hand comes with very sophisticated software that allows him to program what the hand can do.
"I have software which means I can program the hand from the laptop and get it to do different things than it does now, so it actually facilitates different needs as well. It's some piece of kit," he said.
"It has its benefits even when you're just holding a cup because the fingers all curl in underneath it and you don't drop it. Robocop eat your heart out!"