3,000 NI elderly survive cancer for at least 10 years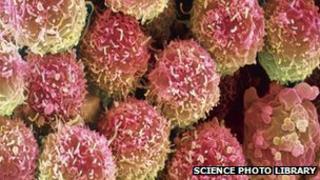 Almost 3,000 NI people aged over 65 have survived for at least 10 years after being diagnosed with cancer.
And more than 300 people aged 80 or over also survived for more than a decade after a diagnosis, new figures have revealed.
However, cancer survival rates for the elderly in the UK and Ireland are among the worst in Europe.
The charity Macmillan Cancer Support has called for action to tackle the disparity.
It also wants to raise awareness of older people surviving cancer and wants older people and health professionals not to make any assumptions about ability to go through treatment based only on age.
The figures, from Macmillan and the National Cancer Intelligence Network (NCIN), show that across the UK, 130,000 people diagnosed at 65 or over have survived for 10 years, with 8,000 people diagnosed at 80 or over also surviving for a decade or more.
An international study showed that for many common cancers, such as prostate, breast, lung, stomach, ovary, kidney and non-Hodgkin lymphoma, the UK and Ireland have a lower five-year survival rate than the rest of Europe, with survival rates particularly poor for those over 75.
The survival rate for lung cancer in the UK and Ireland is 9% worse than the European average for adults aged under 45, but is 44% worse for those aged 75 or over.
Heather Monteverde, Macmillan's general manager in Northern Ireland, said: "It's good news many older people are surviving cancer and it's important older people, their families, and health professionals know that cancer can be successfully treated, even for someone well over pension age.
"However, it's worrying older people in the UK have higher mortality rates than those in other countries and we need to understand why this is.
'Barriers to treatment'
"We know some older people may be reluctant to visit the doctor or attend screening or might just feel they're too old for treatment.
"However, these figures show many older people survive cancer so it's vital the older generation don't count themselves out. It's also important that health professionals don't make any assumptions about an older persons' willingness or ability to undergo treatment based on their age alone.
"Older people can often face barriers to treatment, such as having other health conditions, so we need to make sure these are also being picked up and tackled where possible."
Brian Coburn, from Banbridge in County Down, was 69 when he was diagnosed with multiple myeloma, and at the time was one of the oldest people in Northern Ireland to undergo a stem cell transplant at Belfast City Hospital.
Mr Coburn, now 78, said: "At that time the doctors ignored my age and based my treatment on my health. I have always tried to stay fit and healthy so I was in a good position to go through the treatment.
"I know a lot of people my age who don't do much to keep fit and I think it would be good to see people being more active as, when it comes to things like cancer treatment, how healthy you are matters."