Coleraine abuse court: Victim raped 1,000 times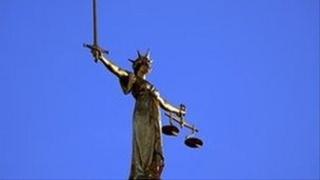 An alleged victim of sexual abuse has told Coleraine Crown Court she was raped 1,000 times as a child.
The woman was giving evidence on the third day of the trial of three men accused of sexually abusing two siblings during the 1990s.
She said some of the abuse took place at Saturday night parties when up to nine men were present.
The alleged victim had told police she believed she had been raped about 1,000 times, sometimes at her father's house.
Asked if she could remember the eight or nine men involved, she said: "I don't remember their faces, I don't remember their voices, I don't know who they were."
She later told the court the only men she knew were involved were those in the dock - her father, uncle and a family friend.
'Go on all night'
A defence lawyer asked how long the sessions of abuse would last.
Indicating that it would sometimes go on all night, she said: "Sometimes the sun would come up."
The court heard that the alleged victim was interviewed by social services and the police in March 1998.
She was asked why she only gave a few details of abuse carried out by her father and did not mention that others were involved.
She replied: "As a child I thought if I told them a little bit then, when he found out, he wouldn't be as angry."
The court also heard of alleged sexual abuse carried out while she was on holiday. The woman told the court that other men came with them and she had to perform sexual acts on them and on her father.
Shaking with emotion as she gave her account, the alleged victim had to take several breaks from the witness box.
'No choice'
During the cross examination, she also alleged she was tied to the bed in a holiday caravan. She said she could hear her brothers playing outside as she was abused.
The woman was asked if anyone ever came into the caravan or asked to see her.
She said no-one was allowed in by her father, who told others she was sick.
The defence lawyer also asked her why she agreed to go on contact visits to her father's house.
She said she felt there was no choice and just did what she was told.
"I was afraid of him, I thought he would kill me," she said.
The three defendants face 56 charges, including multiple counts of rape, gross indecency, assault and cruelty.
The trial continues.