Northern Ireland report calls for better online protection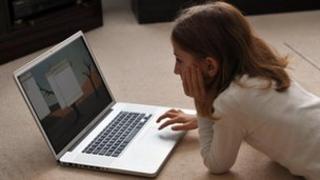 A report has called on the executive to do more to protect children using the internet and social media.
An estimated 80% of children go online every day, some for five hours or more.
Research carried out by the National Children's Bureau (NCB) in Northern Ireland recommends a more co-ordinated approach by Stormont departments.
"Research found 25 different organisations in NI working to keep children and young people safe online," NCB director Celine McStravick said.
"However, many of the NI organisations that do work on e-safety don't make it clear on their websites what help they can offer and not all the organisations have the same messages."
She added: "Risks to children and young people relate to four Cs - content, contact, conduct, and commercialism.
"We asked young people and parents how they would find help with e-safety issues. Most young people had no problem finding information online, but the search engines also directed young people to unhelpful and risky sites."
The NCB research was carried out on behalf of the Safeguarding Board for Northern Ireland.
The report recommends the setting up of an e-safety forum and a more joined-up approach by all concerned with internet safety.
Speaking at the publication of the report at Stormont, junior ministers Jonathan Bell and Jennifer McCann urged parents to ensure children stay safe when they go online.
"I have no doubt that there isn't a parent or guardian in Northern Ireland who would not admit to moments of anxiety about the potential of either social media, or the web, to inflict catastrophic harm on the young people they have responsibility for," Mr Bell said.
"The findings in this unique piece of research will be of significant help in addressing how e-safety messages should be relayed in today's fast moving online community."