Lisburn city centre improvement work 'hurting trade'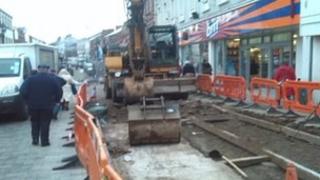 Prolonged construction work in a key shopping area is putting businesses at risk, traders in Lisburn, County Antrim, have said.
Work on the public realm project includes new paving, street lighting and water features.
A city councillor has said the upheaval would benefit the city.
But the scale and constant nature of the work has been a major problem, according to business owners.
Noise
They said they suffered a significant drop in trade over the Christmas period and in January.
The work, in the Bow Street area of the city centre, started in October and is expected to continue into 2015.
Cafe owner Jingyi Graham said: "I have to try to reduce my costs and our staff are all going to be affected.
"I've already had to cut the staff hours down.
"My customers have come in, at times, during the period the work stops and they said that they couldn't come again because they couldn't get access and couldn't bear the noise."
Councillor Jim Dillon said: "With any construction job there is going to be a certain amount of upheaval.
"It will be done as quickly and efficient as possible. It will be a first class job when it's finished."