Pearse Jordan inquest: High court challenge should not have been behind closed doors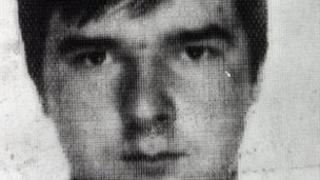 A court has heard that part of a High Court challenge to the verdict reached at the inquest of Pearse Jordan should not have been held behind closed doors.
The IRA member was killed in disputed circumstances after a car crash in 1992 in west Belfast.
Lawyers for the chief constable accepted that his relatives and the public were unnecessarily excluded from two days of the case.
It covered reports into so-called "shoot to kill" incidents
Recordings of the proceedings conducted in private should be played to the press and next of kin as a way of "correcting" the situation, a judge suggested.
Jordan died following an incident on the Falls Road in Belfast.
Witnesses claimed police shot him in the back as he tried to flee from a stolen car.
His death was one of several high-profile cases in Northern Ireland involving allegations of a shoot-to-kill policy operated by the security forces.
In October 2012, a long-delayed inquest failed to reach agreement on key aspects.
The jury was split on whether reasonable force was used in the circumstances, the state of belief on the part of the officer who fired the fatal shots, and whether any alternative course of action was open to him.
They did agree that Jordan was shot by a Royal Ulster Constabulary (RUC) officer after he got out of a red Ford Orion car that had been forcibly brought to a stop on the Falls Road.
Unfair
Jurors also endorsed the findings of a post-mortem examination that he died of a bullet wound to his chest.
Lawyers for Jordan's father, Hugh, have claimed the inquest was unfair and want a new hearing ordered.
Part of their judicial review challenge centres on a decision to deny them the chance to use parts of reports into suspected shoot-to-kill incidents.
They want an order quashing the coroner's refusal to permit the deployment of narrative and analysis from investigations into six deaths carried out by John Stalker, the former assistant chief constable of Greater Manchester Police, and Sir Colin Sampson of West Yorkshire Police.
Three of the police witnesses in the Jordan case also featured in the Stalker/Sampson reports.
During two days of the judicial review hearing last month the court sat in private as issues around this material was explored.
But with the reports subjected to redactions, Mr Justice Stephens questioned the need for a closed session.
A new affidavit from Chief Constable Matt Baggott's senior legal advisor confirmed all sensitive material is already shielded by a public interest immunity (PII) certificate.
He confirmed the PSNI does not now consider references to the redacted Stalker/Sampson reports to be heard in private.
Counsel for the chief constable, Tony McGleenan QC, told the court on Tuesday: "It's clear the closed hearing took place in circumstances where it ought not to have done."
Karen Quinlivan QC, representing the Jordan family, claimed police had taken a "very secretive approach" aimed at protecting the reputation of the RUC Special Branch.
She argued that any member of the public should now be able to access what was discussed in court over those two days.
Mr Justice Stephens stressed: "The primary concern is to see what should be done about that, how one corrects that position that a hearing took place in private that should have been in public."
Subject to any further PII applications, he suggested recordings of the hearing should be played once to the press who could then report on it.