Craigavon Crown Court judge overturns David Page anonymity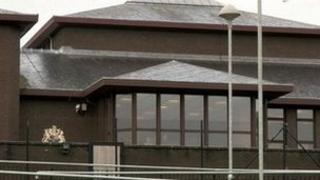 A judge has overturned a ruling to grant reporting restrictions on a convicted paedophile, after representations were made by the press.
David Page, whose address is a Belfast hostel, was convicted of sexually assaulting a six-year-old girl.
Page, 42, was also found guilty of breaching a Sexual Offences Prevention Order (SOPO) by having contact with a child without approval.
A third count of child abduction was left on the court books.
The case was widely reported at the first court appearance last May, when Page refused to enter the dock claiming it was against his human rights.
A bail application was heard in his absence, but was refused.
Page had intercepted the girl outside a house in Albert Street, Lurgan, and persuaded her to come inside where he sexually assaulted her. The child managed to escape and raise the alarm.
There were a number of follow-up video-link remands during which no issue was raised as to reporting restrictions.
When Page was to be formally committed for trial he was, as is standard procedure in remand cases, brought to Craigavon Magistrates Court to appear in person on 4 October.
However, he refused to come to the courtroom and the hearing took place in one of the court's cells.
During this process, a district judge granted reporting restrictions, despite details of the case, as disclosed in the bail application, being in the public domain for some time.
This was challenged by press through the office of the Lord Chief Justice, citing grounds including existing media coverage of the case in question; no connection/nexus to the alleged victim which could lead to identification; negated community threat to the defendant given his custodial remand, and incorrect procedures at the time of the restrictions being granted.
On Monday, as Page's case appeared before Craigavon Crown Court, a different judge reversed the decision, ruling there was no reason for anonymity.
Page has been remanded in continuing custody pending pre-sentence reports, and will appear again on 28 February.