Mental health services 'urgently needed' in NI, says report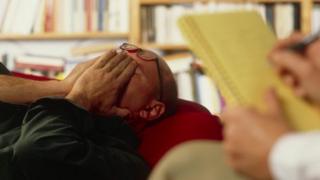 Rehabilitation services are urgently needed for people in Northern Ireland with the most severe forms of mental ill health, a report has said.
The Royal College of Psychiatrists said there were gaps in provision for people with schizophrenia, schizoaffective disorders and severe bipolar illness.
The report, Recovery for People with Severe Mental Health Problems in NI, is published on Tuesday.
It has the backing of the six main mental health charities in NI.
They are Mindwise, Action Mental Health, CAUSE, Aware Defeat Depression, Niamh and Praxis.
The authors of the report, including services users and carers, have met an all-party group for mental health in Stormont.
They advised the group that people with such severe and complex needs are at risk of a "new form of institutionalisation" as they are stuck in acute mental health wards.
The authors said trusts must be held to account for how they plan to develop their rehabilitation services to meet the needs of this group.
Hospital closure
Rehabilitation services include therapeutic living environments, multidisciplinary teams and psychosocial interventions such as cognitive behavioural therapy.
The report said that while all the mental health services in Northern Ireland had some kind of rehabilitation service, it tended to be "almost an accidental by-product" of the hospital closure programme.
Dr Diana Cody of the Royal College of Psychiatrists in Northern Ireland said the services were "patchy, considered as low priority and often delivered in poor quality environments".
David Babington of Action Mental Health said schizophrenia was a common illness, affecting approximately four in every 1,000 people.
"This is a relatively small, but not insignificant group, who deserve the best treatments available," he said.
"People in receipt of good rehabilitation services are eight times more likely to achieve and sustain successful community living."
Anne Doherty of Mindwise said: "People can become 'stuck' on acute wards due to the lack of an available service to meet their needs and this leads to distress and institutionalisation."
The report said that with appropriate rehabilitation, 60% of people are able to progress to successful supported community living within five years and around 10% will achieve independent living.