Kevin McDaid: Twelve men sent for trial over manslaughter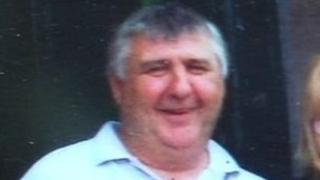 Twelve men accused of the manslaughter of a Catholic community worker in County Londonderry have been returned for trial.
Kevin McDaid was attacked outside his home in Somerset Drive, Coleraine, in May 2009.
The attack took place at a time of heightened tensions over flags and on the day Rangers and Celtic were playing in the Scottish league.
The 12 men are also charged with the attempted murder of another man.
The defendants are:
Aaron Beech, of John Street, Ballymena
David Craig Cochrane, of Windyhall Park, Coleraine
David James John Cochrane, of Windyhall Park, Coleraine
Frank Daly, of Oakland Walk, Coleraine
Rodney Gardner, of Knocklynn Grange, Coleraine
Philip Kane, of Danes Hill Road, Coleraine
James McAfee, of Cloneen Drive, Ballymoney
Christopher McDowell, of Castle Walk Mews, Castlerock
Ivan McDowell, of Taggart Mews, Ballymoney
John McGrath, of Knock Road, Ballymoney
Paul Newman, of Nursery Avenue, Ballymoney
John Thompson, of Knocknougher Road, Macosquin, Coleraine
The court heard that an application has been submitted for a non jury trial.
Two other men were also returned for trial on lesser charges.
The district judge rejected defence submissions on behalf of one of the accused, Philip Kane, that he was merely present with no specific intent.
The judge said that in his view there were "no spectators in this case" and he was satisfied that all the accused had a case to answer.
He added that some witnesses had described the group that carried out the attack on Mr McDaid as a "mob" - a word the Oxford English Dictionary defines as a group with a certain intent.
All the accused were granted continuing bail.
They will be arraigned next month.